OVERVIEW
EHB Chamblee has two centers. The Skills Center has one full court and four NBA fully adjustable goals. Next door, the Shooting Center boasts five Shootaway Gun 10k Systems, two Lazer Handle Fitness Ballhanding Stations and two Vertimax.
The EHB Chamblee Shooting Center offers monthly memberships or hourly rentals.  To check on availability or reserve a session, contact us at info@elitehoopsbasketball.com or call 470-242-1EHB. Birthday Party information can be found HERE.
SHOOTING CAGES BOOKING
Click HERE to book your 30 minute Shooting Cage rental.
PRIVATE 1on1 SESSIONS BOOKING
Our Private 1on1 Sessions will resume in late May 2020. Click HERE to book your private 60 minute 1on1 session with one of our coaches.
SENIOR SKILLS DIRECTOR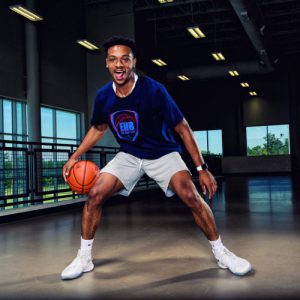 EHB Chamblee is directed by Coach Khalil Carter.
Email: khalil@elitehoopsbasketball.com
SOCIAL
EHB Chamblee Facebook, EHB Chamblee Twitter, EHB Chamblee Instagram
LOCATION
EHB Chamblee is located at 2065 Peachtree Industrial Court, Suite 210, Chamblee, GA. 30341.
HOURS (Through June 2020)
Monday-Thursday 8:30a-8:30pm
Friday CLOSED
Saturday 9:00am-6:00pm
Sunday 1:00-6:00pm
SUMMER TRAINING
The training sessions below will run between June 7-Aug 2. These weekly sessions will be limited to 15 players each, based on current Georgia guidelines. Individual skill development, shooting instruction will be taught along with small sided game play (1v1, 2v2, 3v3). All training sessions are $196 for 7 sessions.  Click on the links below for exact ages, times and skill level for each day. Sessions are available for Academy 1st graders all the way to Elite 12th graders.