OVERVIEW
EHB Alpharetta is scheduled to open in the fall of 2020 and will be open 6 days per week.  This location will have two full courts with 4 adjustable NBA goals. In addition, the Shooting Center boasts six Shootaway Gun 10k Systems, three Lazer Handle Fitness Ballhanding Stations and two Vertimax. The EHB Alpharetta Shooting Center offers monthly memberships or hourly rentals.  To check on availability or reserve a session, contact us at jaron@elitehoopsbasketball.com.
SENIOR SKILLS DIRECTOR
EHB Alpharetta is directed by Coach Jaron Jones.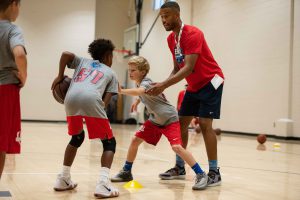 LOCATION
EHB Chamblee is located at 5740 Commerce Boulevard, Alpharetta, GA 30004 and will be open in the fall of 2020. Check below for our current locations we are training at.
HOURS
Monday-Thursday: 1:00-8:15pm
Friday: Closes
Saturday: 10:00am-4:00pm
Sunday: 1:00-6:00pm
SOCIAL