OVERVIEW
EHB Alpharetta is scheduled to open in the fall of 2020 and will be open 6 days per week.  This location will have two full courts with 4 adjustable NBA goals. In addition, the Shooting Center boasts six Shootaway Gun 10k Systems, three Lazer Handle Fitness Ballhanding Stations and two Vertimax. The EHB Alpharetta Shooting Center offers monthly memberships or hourly rentals.  To check on availability or reserve a session, contact us at jaron@elitehoopsbasketball.com.
SENIOR SKILLS DIRECTOR
EHB Alpharetta is directed by Coach Jaron Jones.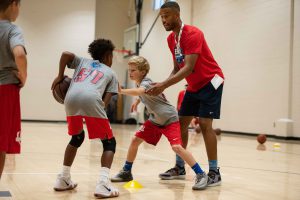 JUNIOR SKILLS DIRECTOR 
LOCATION
EHB Alpharetta is located at 5740 Commerce Boulevard, Alpharetta, GA 30004 and will be open in the fall of 2020. Check below for our current locations we are training at.
FACILITY HOURS (beginning Fall 2020)
Monday-Thursday: 1:00-8:15pm
Friday: Closed
Saturday: 10:00am-4:00pm
Sunday: 1:00-6:00pm
SOCIAL
SUMMER DAY CAMPS
All of the Camps below will run from 9am-3pm Monday-Thursday and will be limited to 40 players, based on current guidelines.  As of May 16, there will be no game play at camp, so we will be focusing on individual skill development as well as speed & agility.  Game play may be introduced into camp if and when Georgia allows it, however you would be contacted if we choose to do so.
Last summer, we hosted over 1600 campers and this summer our max enrollment will be about 40% of that so please register quickly before your camp choice is sold out.
SUMMER TRAINING
The training sessions below will run between June 7-Aug 2. These weekly sessions will be limited to 15 players each, based on current Georgia guidelines. Individual skill development and shooting instruction will be taught and there will be no game play. Game play may be introduced into training only if and when Georgia allows it, however you would be contacted if we choose to do so. All training sessions are $196 for 7 sessions.  Click on the links below for exact ages, times and skill level for each day.
LIVE ZOOM TRAINING & LEADERSHIP
Based on the amazing feedback we received from our 400+ Spring LIVE Zoom Trainees, we will continue offering these 45 minute sessions in June and July. You can train up to 4x per week and attend Drew Maddux' Leadership session on Sundays for 8 weeks. Register by Friday May 22 and you will receive 8 weeks of UNLIMITED online training for only $49! That's less than $1.25 per session! The fee will increase to $79 after May 22. REGISTER here for LIVE Zoom Training.
Academy/Premier 1st-5th Grade    Mon, Tues, Thurs at 4pm, Sat at 10am
Premier/Select 3rd-7th Grade        Mon, Tues, Thurs at 4:50pm, Sat at 10:50am
Select/Elite 5th-12th Grade            Mon, Tues, Thurs at 6pm, Sat at 12pm
Leadership w/ Drew Maddux         Sundays 7:30pm